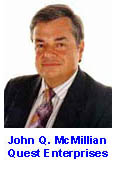 John's love affair with business began when he was just 15 years old and working part time as a "sanitizing engineer" for a company in the rolling hills of East Tennessee. His parents instilled in him beliefs in the value of hard work, honesty, and integrity. He truly believes in the old saying, "The harder I work, the luckier I get!"
After earning an MBA from the University of Tennessee, John spent eight years on active duty with the Air Force. His last assignment was as a Missile Combat Crew Commander for the Titan II, ICBM system at Little Rock, AFB. It was while in the Air Force, that John bought his first computer and begin teaching himself the fundamentals of computer systems and basic programming. He went on to author two DOS based business software programs (The Managers Toolbox and EZ SPC) in the late 1980's.
Upon leaving the Air Force in 1984, John began the path that would eventually lead him to the creation of Quest Enterprises. According to John, "As a leader I can't motivate anyone; all I can do is help remove the organizational and self-imposed limitations that exist, empowering them to motivate themselves and others."
John presently resides on Cherokee Lake, in East Tennessee. He lives in a passive solar, earth sheltered home, of his own design.